Pod2 Expands Into Tech
Posted by Chris Douvry on April 16, 2021
Josh joins Pod2
Even in the early days of software, most people acknowledged that it could be used to automate some of the more tedious, manual tasks. However, it would've been hard to predict how software would eventually expand into every industry to the extent that it has today. Software is everywhere now: automating, integrating, accelerating all kinds of tasks and workflows.
Although software is commonplace, we often hear about technology gaps when we talk to companies. Sometimes there's no existing software out there for what employees are trying to do. Other times the software does exist, but it's either too difficult, slow, buggy, or doesn't integrate well with other software they're already using. This ultimately results in frustration and makes work less enjoyable for those employees.
Pod2 wants to fix this.
Pod2's mission is simple: to transform the role that work plays in people's lives. Consulting is one way to drive that mission forward, but technology is also an important way Pod2 can directly impact people's work. That's why it's natural for Pod2 to expand into software development now.
Who is Josh
If you've read The Build-Up, you've already read about me: I was the person that let Matt into the office on his first day of work with me back in 2013. Matt and I worked together on lots of consulting projects, and were part of a fast-paced, growing startup for years together. We've been close ever since, and we've always been interested in working together again.
I've worked in roles where I could see firsthand the kinds of software gaps that exist. Fortunately, I've also been involved in creating software to fill many of these gaps, and it always felt extremely rewarding to see how positively the software could directly impact people's work.
Matt messaged me back in December about the idea of creating small, focused software applications. We were both really interested in the concept and knew we had to try it out. We decided it would be great for me to join Pod2 and get started on it right away.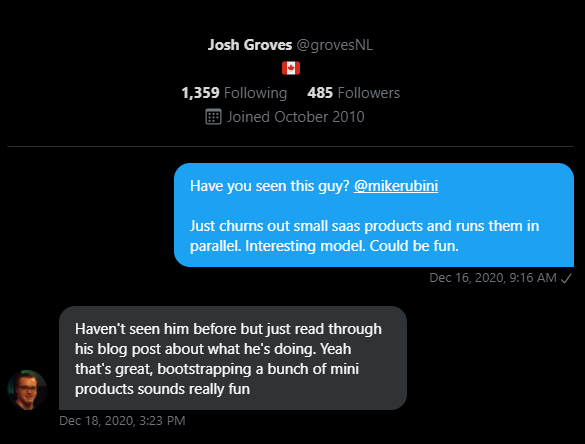 In joining Pod2, I will work with Matt to build small, hyper-focused software that meaningfully impacts people's work. We want to fill as many of these technology gaps as we can.
Pod2 tech vision
Pod2 aims to make software that empowers people and makes work fun. To accomplish this, we've decided on an initial set of principles to guide us initially:
Milliseconds, not minutes: don't make people wait
Focus on common needs: prioritize software and features that benefit many over a few
Open data: make data easily available so people can create their own integrations
Actively seek collaboration: look for opportunities to collaborate outside of Pod2, especially via open source
Prefer small software that does a few things extremely well: focus on many small problems instead of few large problems
Deeply understand people's needs: understand the problem that people are trying to solve
Intuitive design: make it easy to use
Simple distribution: make it easy for people to get
Release in small increments: keep release cycles small
What's next
We have already started developing software and will be beta testing soon. Please subscribe to our newsletter to hear about opportunities for beta-testing, updates on releases, or opportunities to collaborate with us.
We're also interested in hearing from you about any problems you're facing at your organization that we might be able to help with. If you have a problem that could be solved through technology and would like to work with us to solve it, contact us at info@pod2.co.
Josh